Clear panels are a very popular accessory that customers are using for their metal buildings. Clear panels offer you a long list of benefits that range from affordability to built-in UV protection. Throughout this blog, we'll help you understand the benefits of clear panels to see if they're a good option for your upcoming project!
Clear panels are panels made of corrugated polycarbonate material. These transparent panels are durable and can be up to 200 times stronger than traditional glass. Clear panels are an alternative to the typical 29 or 26-gauge steel panels. 
7 Benefits of Clear Panels
UV Protection
Varying Levels of Thickness
Durable & Impact Resistant
Impact & Light Transmission Warranty
Natural Lighting
Lightweight
Economical
One point to keep in mind when considering clear panels is their quality of UV protection. As clear panels allow natural light to enter your building, they can also expose you to the sun's harmful rays. However, the DMI clear panels have co-extruded protection. Therefore, UV protection is found throughout the panel rather than being sprayed directly on the panel's surface.
Varying Levels of Thickness
Secondly, clear panels are known to be as versatile as steel panels as they are also available in varying levels of thickness. Depending on what you're using it for, your DMI panels can range from approximately .8 millimeters to 1.5 millimeters. However, options vary by manufacturer, so check with your builder to make sure the panels meet your needs!
Durable & Impact Resistant
Further, when you're purchasing a product, you want your investment to last a long time. With this alternative, you invest in a durable and impact resistant product. Clear panels are proven to be a durable product as the strong properties protect against corrosion and harsh chemicals. Additionally, clear panels offer impact-resistant properties that protect against hailstorms that leave you with costly repairs. Click here to see a modern steel building with clear panels! 
Impact & Light Transmission Warranty
Depending on the manufacturer of your clear panels, you can have warranties that help protect your investment. Clear panels protect your investment by offering you a 10yr/10yr warranty. This warranty covers the 10-year light transmission and the 10-year impact of the panels. The light transmission warranty covers loss of light transmission you may see due to the yellowing of the panel over time. On the other hand, the 10-year impact warranty protects your panels from storm damages such as dents from hail. Click here to view how a client incorporates clear panels into their roofing. Check in with your builder to understand your panel's warranties!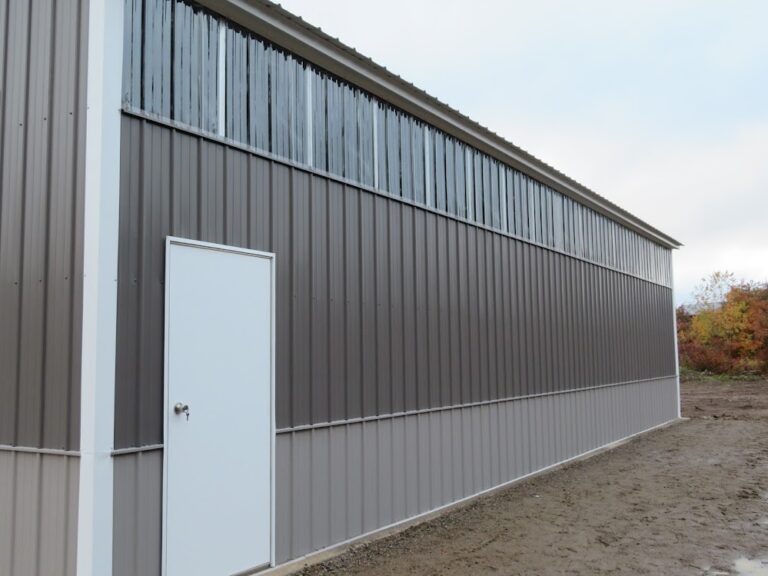 Moreover, one of the reasons clear panels are sought after is their ability to allow natural light into the building. As previously mentioned, clear panels are almost 200 times more durable than the typical glass panel. Therefore, clear panels offer you the ability to have natural lighting in your building while still having a strong product that will protect your belongings! Click here to see the natural lighting in a steel shed with clear panels. 
If you happen to be completing the work on your building, you want the ease of installing panels that are lightweight and easy to handle. Clear panels are known to be lightweight which in turn allow for an easier installation.
Lastly, make sure you're staying on budget with your project. Clear panels can be a very economical option when comparing to other accessories such as windows. Of course, we recommend price checking before proceeding to know which option is best. Therefore, contact your builder to understand your project's pricing! 
Midwest Steel Carports, Inc.
(877) 235-5210
For more content, follow us on: