Looking to build a slab or foundation for your metal carport, metal garage, or metal barn? We have outlined our concrete recommendations below to help you get started with your project!
Do I need a permit?
It all depends on your local building codes. In Michigan, there are strong regulations when it comes to building so more than likely yes. Check with your local building department. Your concrete contractor should be knowledgeable and be able to assist you with the process. 
At Midwest Steel Carports, we provide you with engineer plans (at no cost) to easily pull a permit. On the last pages of our plans you will find concrete recommendations for how the foundation needs to be built. An experienced concrete contractor will understand the plans.
What regulations apply to concrete slabs or foundation?
The regulations will vary according to location. In most cases in the MIdwest, you must have the following: 
Minimum of 4″ thick slab for normal residential use 

( cars

, light trucks, 

etc

 )

Footing must be of 42″ in depth although some local codes allow for less depth

Minimum of 12″ wide footing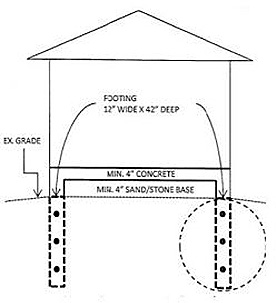 See the drawing to better understand what a footing is for newbies. The purpose of footings is to support the foundation, support the weight of your structure, and prevent settling.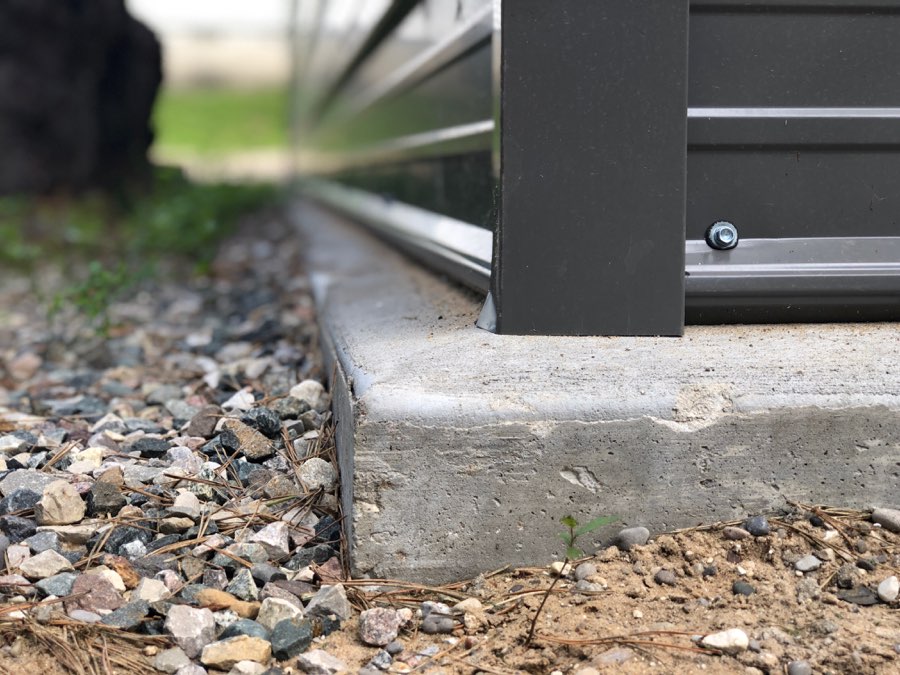 What size should I build my concrete slab?
The size of the concrete slab depends on the carport / garage / workshop chosen. When you order with Midwest Steel Carports, we provide you the the frame dimension. Majority of companies in the industry provide you the roof dimension which is always 1′ longer than the frame dimension due to the 6″ overhang on each end. The industry has established the standard lengths as 21′, 26′, 31′, etc. However the standard frame dimensions have always been 20′, 25′, 30′, etc. Below are the 3 types of concrete recommendations for your slab to choose from. 
Slope Edge Offset – This is our most recommended option. The slab size is equal to the building frame dimensions PLUS 1″ (.5″ all the way around ) .5″ should be done with a 1/4″ slope away from your building. This will insure that water coming from the side of your building will flow away from the inside of your building.
Notched Edge Offset – The same as Slope Edge Offset but the extra is 1.5″ lower or "Notched".  We recommend to apply this option at the location of your garage doors.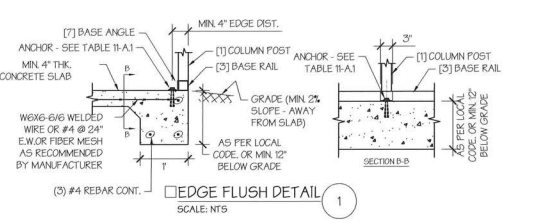 Edge Flush – The slab size is equal to the building frame dimensions. This option allows the siding to overhand the foundation which effectively prevents water from flowing under the walls. This option is our less recommended option as the concrete wedge anchors can chip the edge of you concrete. We do have options to anchor your building appropriately at an additional cost effective price.
Where should I set the slab / building location?
Many factors are important when selecting the location of your building. See below:
Property line and setbacks – Most areas require a building to be set back from the property lines. Contact your zoning department (township) and ask what you need. Make sure you do not set a concrete slab over your septic field or tank.
Accessibility to your building – Find a convenient location that will provide more satisfaction. If you are planning to have power in the metal garage, make sure to set it close to your main source of power.
Grade or Water Control – Pay attention to where your water settles after a rainy day. We do not recommend to place your slab / structure in a low area that has potential for flood. This is a a long-term investment.
How will my structure be anchored to slab?
Midwest Steel Carports will recommend the required amount of anchors to certify your building for 120 mph winds. The standard process is to include them in pricing we offer. We use 1/2″ x 7″ wedge anchors as specified by our engineer plans. See picture below.