Should I insulate my metal building or steel building?
Many people choose to have their building without any insulation due mostly to cost. However, depending on the use of the building, insulation might be essential. In the Midwest we live in a high humid area with considerable temperature swings. When temperatures vary noticeably between outside and in, condensation (moisture) will form. Without proper building maintenance practices, moisture can also cause building rust and corrosion and damage valuables stored inside, too, by causing mold and mildew. By insulating your metal building, you will stabilize the structure's interior temperature and prevent moisture from entering or collecting via condensation. You will also be able to heat and cool your building with more efficiency.
What if I only want to control condensation?
While it's not a good insulator, Condenstop is the hottest product in the market in recent years. Condenstop is an effective, affordable solution to prevent condensation on metal roofing panels. The microsphere technology is a synthetic non-woven fleece based on polyester fibers that is applied during the roll-forming process saving labor costs. Other benefits include:
 Help prevent corrosion and rust
 Protects your roof and investments
Absorbs moisture, no draining, no dripping
High fire safety class
Midwest Steel Carports is proud to offer Condenstop. Ask your salesperson for more details.
What type of metal building insulation is best?
Since metal is a high conductor of thermal energy (heat or cold), a steel building is durable and strong, but you might spend more on energy bills and heating without the proper insulation in place. We're going to look at the best insulation options for metal garages and steel buildings.
Batt and Blanket
Very economical and effective when installed correctly, Batt and Blanket insulation is processed made from mineral fiber typically of fiberglass or rock wool and may include a radiant barrier blocking (the best for metal buildings). Fi
R- Value – R-3 – R-30 depending on thickness (approx)
Midwest Steel Carports DOES NOT currently provide Batt and Blanket insulation because rolls come in 15-24 inches wide. Our stud spacing ranges from 34″ – 60″ depending on location.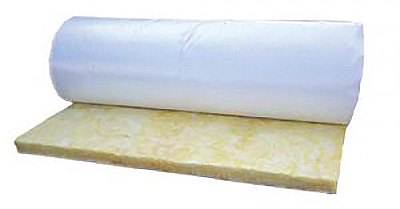 Spray Foam Insulation
A polymer, combined with a foaming agent, sprays into steel wall and ceiling cavities. The liquid turns into a solid cellular material of air-filled cells which fills every space – even the small spaces where air will not escape. For areas prone to cold weather, Spray foam insulation is a great option because of how well it seals the building from insects and pests. 
Some building experts reject spray foam because the foam can trap moisture within the area it has been sprayed and no permeance level. Given time, this trapped moisture can start to corrode and rust away the underside of the metal panels. However, an experienced contractor will apply techniques such as flashing and careful monitoring to prevent this from happening. In the 30+ years of experience in the metal buildings industry, spray foam has a great reputation and we have received great reviews.
Midwest Steel Carports, Inc DOES NOT provide spray foam insulation.
R- Value –
Open-cell Spray Foam R-3.7 per Inch (approx)
Closed-cell Spray Foam R-6.5 per inch (approx)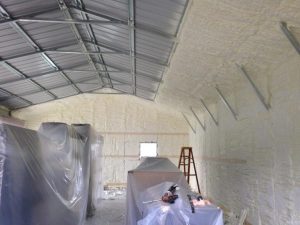 Bubble Insulation
Bubble insulation is composed of polyethylene bubbles that function as additional thermal barrier and stops condensation. Since steel conducts heat well, a metal building naturally transfers heat energy in and out very freely. Bubble insulation resolves this problem by reflecting radiant heat to keep the temperature differential off of your buildings steel panels. If your bubble insulation has a perm rating of less than 1.0, it will be classified as a full vapor barrier. A vapor barrier prevents moisture from passing though our insulation and getting to the steel panels where it can turn into condensation. All benefits:
Blocks 96% of Radiant Heat Transfer
Prevents Interior Condensation
Class 1 / Class A Fire Rated
Unaffected by Humidity
Will not promote Mold and Mildew
Bubble insulation comes in foil on both sides or foil on one side and white on the other (no difference in performance). The white backing gives the metal building a nice, clean, bright finish in the inside.
R- Value – R-6 – R-10 (approx)
Midwest Steel Carports, Inc DOES provide bubble insulation.