Are you stuck wondering whether you're choosing the right door for your project? Don't worry-you're not alone. Choosing between roll-up doors and overhead doors is a big question among our customers! Basically, there are five main differences to keep in mind when choosing your door. Although these options vary depending on your contractor, the main differences are color, material, price, durability, and automation. 
Which option is best for me?
Both the roll-up doors and the overhead doors have their pros and cons. Some customers may find that the roll-up door fits their needs. However, other customers may choose the overhead door for their needs. Therefore, it's important to do your research before deciding on one or the other. 
What are they?
A roll-up door is a steel curtain that rolls into a coil over your opening when you raise it. This style door is like a roll of paper towel rolling up. Roll-up doors are usually seen on storage units and warehouses.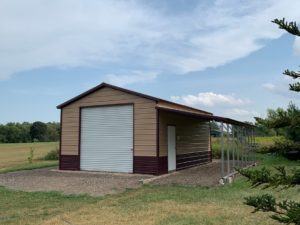 An overhead door is a residential panel door that moves overhead your opening on a track when you raise it. Therefore, rather than rolling into a coil, the door moves on a track.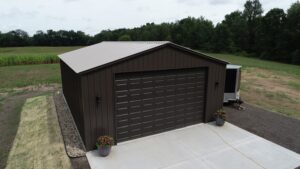 Color options
Choosing your colors is one of the most interesting parts of designing your new metal structure. Here at Midwest Steel, we offer many colors for your overhead door. However, all roll-up doors are standard white. If you're interested in a colored door, our roll-up doors may not be your best option. These color choices may be a deciding factor, so we recommend checking in with your contractor to see your options! 
Material
The material of your doors can also be a deciding factor when choosing your doors. At Midwest Steel Carports, the standard roll-up door is a 26-gauge corrugated steel curtain. Again, this roll-up door does not have insulation. Regarding overhead doors, we offer a non-insulated 25-gauge steel door, whereas the typical insulated door is a 27 gauge steel with medium duty (R-9.65). 
Price
Another important thing to keep in mind when choosing your door is cost. While pricing varies across the industry, overhead doors are much higher. If you're looking for a cost-effective option, roll-up doors may be your solution. Speak with your salesperson to compare pricing for your building! 
Durability
The strength of your door is a valuable investment. When choosing your door, you may find one to work better than the other. When comparing the standard roll-up door to the standard overhead door, durability is about the same.
Automation
A common question about these doors is whether or not they are compatible with openers. An overhead panel door is compatible with electric door openers and is commonly found with residential buildings. However, roll-up doors are typically not compatible with openers. If you plan on using your building on a daily basis, a compatible door can be a convenient option for you. However, if you're just using it for storage, roll-up doors may be best.