A common struggle customers have when looking into purchasing a building is understanding what size best suits their needs. Three things you should consider when deciding your ideal building size include: code restrictions, storage & property.
When preparing for your new steel building, you want to go through a quick and easy process. Therefore, you want to work with your experienced Project Managers to make sure every detail is taken care of. One of the worst feelings after using your metal building is running out of valuable space. This problem, along with others, can lead to many headaches later on. 
The first thing to do when considering a steel building is contacting your local building department. Check in with your local Zoning and Building Department to make sure there are no square footage restrictions for your property. This step is critical as it will help you avoid any issues down the road. For example, if you don't abide by local codes, you could experience the following:
Disapproved permits
Building removal
Expensive fines
Don't worry, if you're familiar with this process we can definitely help. Our trained Order Processing Specialists are available to assist you with your permit process. For more information on permits, click here! 
While deciding on your building size, you should ask yourself the following questions to assure it will fit your needs. Said questions include:
"What do I want to use this building for?"
"What items would I like to store in the building?"
"Will I want to add on over time?"
What do you want to use your building for?
There are endless amounts of ways to use your metal building. For example, these can be agricultural use, commercial use or cold storage. Understanding what the purpose of your project is will help you understand how much room your projects will require.
What items will you store in your building?
Make sure you take into consideration everything you will be storing. If you are looking to store your RV, vehicles, lawn equipment, etc. you should take down accurate measurements for each item. For example, you should include any accessories as well as measuring with the doors open for when you're exiting. Additional things to keep in mind when measuring are:
AC units/ventilations on RV's
Bike racks
Slide outs on RV's
Hitches
Plows
Will you want to expand over time?
Always keep in mind what your future plans may be. Do you plan on purchasing more cattle later in the year? Consider how much space you may need for that additional room in your agricultural barn.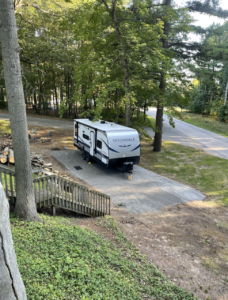 Understanding your property is critical regarding your building as this can determine whether your building can be installed. There are many different items you must prepare to have a hassle-free installation:
No overhead lines within 10′ of the building
No unmarked underground lines
3′ clearance around the walls of the building
If you're unsure if your site is ready for installation, contact your Project Manager for one-on-one help! For more detailed information on preparing your site, click here. 
Midwest Steel Carports, Inc.
(877) 235-5210
For more content, follow us on: