Own a mobile home or double wide manufactured home and would like an additional cover alongside your building? Midwest Steel Carports offers a free standing metal lean to that can function as an additional covered area or picnic shelter. Let's quickly dive into all you need to know about our metal Free Standing Lean-To carports.
What is a metal Lean-To? 
A metal Lean-To is single sloped structure that is usually installed against another structure. There are two types of Lean-To's. 
A regular Lean-To is an additional single sloped structure attached to another Metal Structure. Most companies will only attach to a structure that was built by them for liability reasons. 
A free standing Lean-To is a structure that is technically unattached but can be installed very close to an existing structure. In Michigan, it is very common to have free standing Lean-Tos installed alongside mobile homes, RV Motorhomes, or double wide homes. 
What sizes are common or recommended? 
The most common size Lean-Tos are typically 12 feet wide. However, we can custom build lean-to's up to 20 feet wide. Anything 13′ wide and above must be reinforced with double bar headers. Additionally, the building requires engineer approved designs to withstand Michigan's heavy snow loads. As for lengths, there are no limits!
Do I need permits? 
It all varies according to your local codes. In Michigan, this will be pre-determined by your local township. As for the customer below, she did not need to pull permits but needed to notify the campground lessor. If you live in a rural area, in most cases, it is not necessary.
Can the Lean-To fit under the eave of my existing structure? 
In most cases, customers are concerned of making sure the water, snow, debris, etc that runs off from the existing structure can run-off on to the Lean-To. We can custom fit the metal Lean-To to fit just under your existing structure. Before we initiate, we would need to receive pictures, exact measurements of the height of your existing structure, and anything you would like to clear. 
Do you do measurements or on site estimates? 
The nature of our business does not allow us to do on-site measurements. However, if you are local within one hour of our location in Grant, Michigan we can accommodate.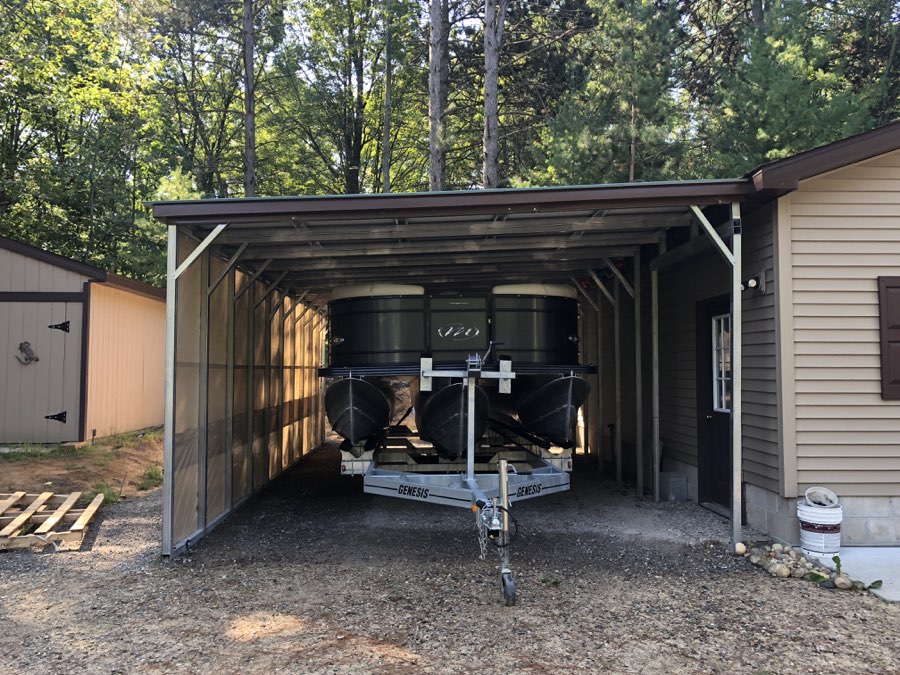 What Roof Style is recommended for my Lean-To structure?
Midwest Steel Carports only offers the vertical roof option for Lean-To's. The sheet panel (ridges) will run from the high side to the low side. The Vertical Roof option also comes reinforced with hat channels running lengthwise. See the completed project below.
Larry's Lean To Project in Manistee, Michigan
Larry initially contacted us wanting a custom metal Lean-To installed at his vacation campground in Manistee, Michigan. He provided us the measurements of the eave of his mobile home, the measurement of his stairway, and the exact location of his window (leg will not obstruct the view of the window). We made sure to clear all those obstacles. Below is the completed Metal Lean-To project for Larry.