Short Answer: A common question we hear is on how to avoid water seepage in your metal building. Water seepage beneath your base rails is a very pesky issue. Some options you have include a slope edge offset, an elevated slab, a concrete sealant package, and more.
The construction of your steel building includes a base rail that lies directly above ground. Therefore, water can seep beneath the base rail and enter your new steel building. Wondering how to avoid water seepage in your metal building? This problem may be seen as unavoidable, but you can actually directly prevent this in many ways. For instance, you can adjust your concrete slab and you can also use a concrete sealant. However, we recommend you speak with your contractor for recommendations specific to your building!
Slope edge offset
The slope edge offset is the option we most recommend for your concrete detail. The slab size is equal to the building frame dimensions plus 1″ (.5″ all the way around). The .5″ are done with a 1/4″ slope away from your metal building. This detail will ensure that water coming from your roofline will flow away from the inside of your building. Click here for more information on concrete slab recommendations.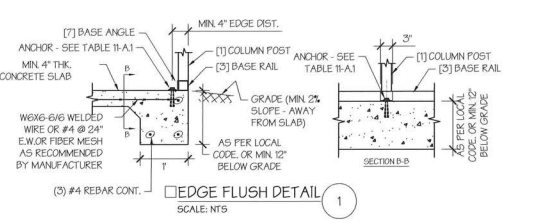 Recommended slab size
For standard steel buildings, below 30' wide, we recommend to add 1" extra (.5" all the way around). Therefore, if you add more than recommended, you risk water gathering on the slab and seeping beneath the base rails. Additionally, the risk is higher if there is no slope edge offset to redirect the water away from the building. For more info on our concrete recommendations, reference the link above! 
Emseal and concrete sealant
Concrete sealant packages are an optional accessory that are not provided by every contractor. We recommend checking in with your salesperson to see if they include this in your building quotes! If your building has a sealant, then the crew will apply it prior to the base rails being set. First, the foam, sponge-like, material is applied first. Then, the crew applies the concrete polyurethane sealant on the edges of the foam for additional protection against water seepage. Click here for info on our concrete sealant package.
Elevated concrete slab
Lastly, you also have the option to raise your slab a few inches above grade. This option will elevate the slab from ground level. Therefore, this option directs water away from the edge of the slab and helps protect again water intrusion. Speak to your contractor for recommendations if you plan to elevate your concrete slab!
Midwest Steel Carports, Inc.
(877) 235-5210
For more content, follow us on: