Short Answer: Definitely! While customization options vary between contractors, steel buildings are known for their versatility and durability.
The steel building industry is known for various qualities, one of which is the versatility of the structures. Steel buildings are used for many different reasons. For example, as garages for cars, covers for campers, sheds for smaller storage, or workshops for work and personal use. The possibilities are endless! A few ways you can customize your building include dimensions, certain material, roof styles, siding orientation, accessories, colors and foundation. 
Work with your Project Manager to understand your needs so you can find the most ideal building for you!
In the steel building industry, you will find standard sizes starting at 12′ wide x 20′ long. From here, you can go up to sizes as large as 100′ wide and as long as you need. However, keep in mind that any buildings 32′ wide and above are engineered and manufactured with webbed trussing. Therefore, there is a notable jump in the price due to the additional material. Typical standard sizes go up in increments of 2′ for the width and 5′ for the length. For example, a standard building size is 24′ wide x 30′ long. However, you can always customize your dimensions to a more specific size, such as 21′ wide x 37′ long.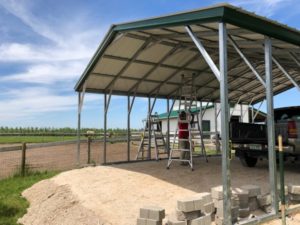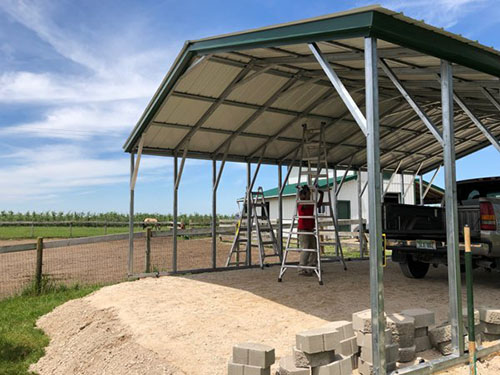 You can customize certain materials on your metal building to meet your specific needs. For example, if rust is a concern for you, you can upgrade to 12-gauge framework with a 20-year rust warranty! Or, if you aren't insulating your building, you can choose the standard vinyl door rather than the insulated steel door. Check in with your Project Manager to see what features you can customize!
There are a few different roof styles available for your metal building. Roof options vary by contractor and can greatly affect your pricing. Midwest Steel offers the a-frame horizontal roof with horizontal panels and the a-frame vertical roof with vertical panels. Both said styles have boxed eves.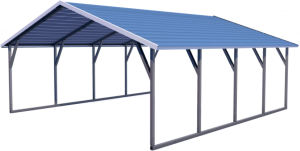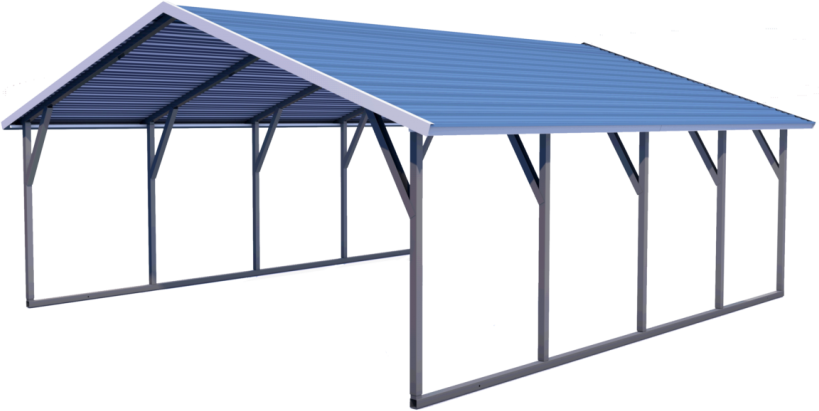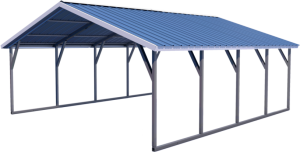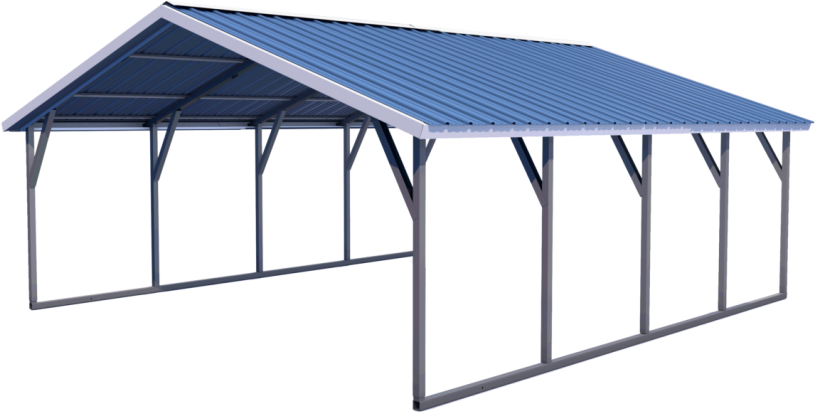 Siding orientation makes a big impact on the appearance of your building. You can choose between horizontal siding and vertical siding. With horizontal siding, the ridges on the panels will run from left to right. On the contrary, with vertical siding, the ridges on the panels run from top to bottom. Horizontal siding is the standard orientation and is at no extra charge. However, vertical siding is an upgrade due to additional material, girts, that we install on the framework.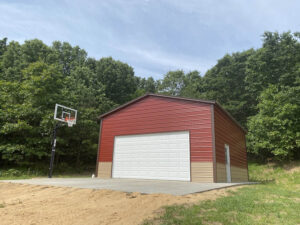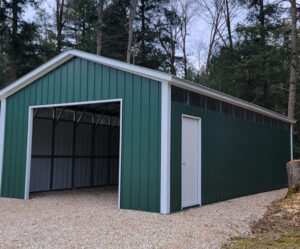 Optional accessories help you protect your valuables even further than just a shelter. These accessories improve the longevity, effectiveness and functionality of your building. Said accessories include: 
Storage options
Sealant packages
Insulation
Overhead doors
DripStop
1′ overhang 
Roof pitch
For more info on these individual accessories, click here. 
Contractors offer a wide variety of color choices that you can mix and match to find the perfect combination. While most colors are standard and are at no additional cost, some colors may be extra. For example, Midwest Steel currently offers 20 color choices. Of our 20 colors, 19 are at no extra cost. However, one color, Copper Metallic, is extra. A color is typically higher when the steel coil is priced higher from the coil manufacturer. 
With steel buildings, you have the ability to choose what you would like as the foundation for your steel building. This can range from just level ground to a gravel pad to a concrete slab. However, certain building sizes may require you to go with a specific foundation. Talk to your contractor about your plans for your foundation so you can get proper guidance on the next steps! 
Midwest Steel Carports, Inc.
(877) 235-5210
For more content, follow us on: